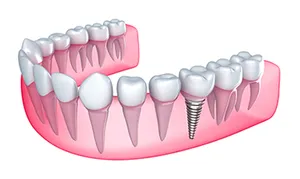 Tooth loss is a common issue, affecting millions of Americans each year. Unfortunately, when you lose a permanent tooth the issues don't just stop there. If left untreated, surrounding teeth begin to shift out of place to fill the gap left behind by your missing tooth. Over time, the jawbone will deteriorate and affect the overall shape of your face. Before these long-term complications happen to you it may be time to find out if dental implants from W. Timothy Brooks, DMD, PC could restore your smile and protect it from further devastation.
Dental implants are different from other tooth replacement options because they offer a variety of benefits to improve your oral health and restore your smile. Implants are small posts made from biocompatible metal like titanium that act like tooth roots. Once local anesthesia is administered, a small hole is drilled into the jawbone and the implant is surgically inserted into the bone. Once the gums have been stitched up we will allow your mouth several months to heal.
During this healing period, the gums and bone will begin to grow around and fuse with the implant to become one. Once this occurs the implant is now a solid, permanent foundation from which to hold a dental crown or other restoration. Once this is complete, the gums will be opened back up so that an abutment can be placed over the top of the implant. An abutment is an extender that is used to connect the dental crown that sits above the gums with the implant that lies hidden under the gums.
In some cases, the abutment and dental crown can be placed in the same visit, while sometimes a couple extra weeks of healing is required after putting on the abutment before the crown can be placed. The crown is the part that is designed to resemble a tooth and is cemented over the implant. A single implant can be used to replace one missing tooth while several can also be placed to hold a dental bridge or full set of dentures in place.
Dental implants are designed to last the rest of your life with the proper care. To find out if implants are the right tooth replacement option for you call (256) 883-8008 to schedule a consultation.
Need more information on dental implants from W. Timothy Brooks, DMD, PC? Call our Huntsville, AL office today at (256) 883-8008 to learn more